Industrial plant at Villedieu-les-Poêles (Manche, France)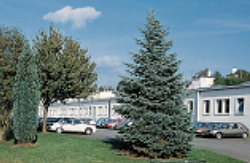 The site at Villedieu-les-Poêles opened in 1973.
It employs 115 people in an area of 4,000 square metres and specializes mainly in electronics. It manufactures flexible and rigid single- and doubled-sided printed circuit boards up to Class 5 and also handles the wiring of electronic boards. Up to 800,000 components are assembled there every week. In addition, Villedieu includes a workshop for assembling Chauvin Arnoux® and Metrix® finished products and Ampflex flexible clamps. The sites at Vire and Villedieu have their own warehouse for spare parts and raw materials.
.

Each site benefits from ISO 9001 and ISO 14001 certification and is equipped with suitable equipment which is the focus of regular investment, but the Group is above all proud of its in-house expertise.