Chauvin Arnoux Group press review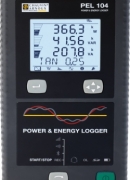 PEL 104 & PEL 106
Article Temcom
https://www.temcom.com/chauvin-arnoux-completes-its-range-of-electrical-recorders-with-the-pel106-and-pel104-models/
PEL 104 & PEL 106
To save energy and consume better, the PEL100 models record everything!
Two new models are being launched to complete Chauvin Arnoux's range of PEL100 loggers: the IP67 all-terrain PEL106 and the PEL104 for applications on electric motors. They offer new measurement modes, new communication modes, 3G/GPRS, and potential new applications! For generators or major consumers of electricity, certification organizations, electricians and maintenance technicians, the PEL100 loggers are ideal for requirements involving: - Power and energy metering (EN ISO 14001) - Energy efficiency (European directive 2012/27/UE) - Electricity consumption auditing (NF EN ISO 50001) - Validation of actual energy consumption - Maintenance & diagnostics

Connaissez-vous la composition de vos liquides avec exactitude ? Innovation SPOT4Line unique spectromètre multi-angles à LED
La Gazette du LABORATOIRE - Juillet 2019
SPOT4Line vous révèle tout sur la composition de vos liquides ! Contrôle en continu directement dans le flux.

La mesure sans demi-mesure
ELECTRO MAGAZINE - Juin-Juillet 2019
La mesure de température à distance avec les tous nouveaux thermomètres infrarouges de Chauvin Arnoux.

CA INDATECH COLLABORE AVEC LE CONSORTIUM C-SOPS
MESURES hebdo - June 2019
Le Center for Structured Organic Particulate Systems a retenu le français pour sa technologie de spectrométrie SRS NIR.

CHAUVIN ARNOUX... Des contrôleurs d'installation innovants
ELECTRO MAGAZINE - Juin 2019
En amont de rénovations dans les logements, s'effectue souvent un diagnostic électrique selon la norme FD C 16-600. David Guillot, chef de produits contrôle et sécurité électrique, détaille les dernières innovations Chauvin Arnoux et Metrix relatives aux appareils de contrôle.

Thermomètres sans contact
MESURES - Mai 2019
Chauvin Arnoux introduit les thermomètres infrarouges portables CA 1860 et CA 1862.