Industrial plant at Dover (USA)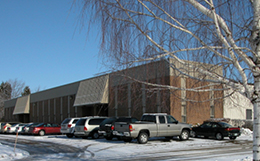 The American subsidiary was set up in 1976 in Boston, the technological capital of the East Coast and the gateway for transatlantic flights at the time. By 1983, it had become so successful that a factory was set up in Dover, New Hampshire, to manufacture finished products to meet local demand.

Ten years later, an R&D unit was set up to develop products for the American market and, soon after, for the world market. Today, the teams in Chauvin Arnoux Inc. are divided between two sites: marketing and sales are based in Foxborough (Massachusetts), while the subsidiary's head office remains in Dover, with the R&D unit, the administrative staff, the manufacturing unit and the logistics department.
The subsidiary mainly sells products under the AEMC Instruments brand, as well as the Group's other brands, in South America, Australia and New Zealand.