Indoor Air Quality: crucial for health
Indoor Air Quality is a health priority in schools and public buildings. The CA 1510 ambient air analyser provides 3 essential measurements: CO2, humidity and temperature. The all-in-one instrument for a healthy environment.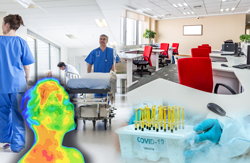 The CA 1510 air tester from Chauvin Arnoux provides 3 essential measurements:
CO2 level, relative humidity and temperature.
80% of young people and the people supervising them spend their time in public or confined areas. Childcare facilities, infant schools, middle schools and high schools all have to accommodate these groups in a difficult healthy context. The spread of Covid-19 is increasingly easy in these indoor spaces.
Air quality monitoring helps you to take better preventive action for renewal of the air breathed, thus reducing exposure to the virus.
When set up in an area, attached magnetically to a metal surface, the CA 1510 tester continuously measures the air and alerts users audibly or visually if the threshold defined is reached.
This makes it a good way to check regularly whether you need to air a room. Furthermore, the CA 1510 communicates in real time via Bluetooth with your tablet or Android phone.
The CA 1510 is available in 2 colours (white or black) and is delivered with mounting accessories, batteries, charger and data transfer software.
Download the sales literature:
https://www.chauvin-arnoux.com/sites/default/files/HLHBRPMY.PDF